Payday Loans Targeted Audience or Customer Avatar
Looking for an easy way in selling a payday affiliate program? Thing is, that's not as simple as that. No matter what payday loan affiliate program you're in, you must work hard. Put your target customer first to succeed. 
Wishes, needs, problems, ample information about your target customer is the key. You might want to generate SEO traffic, paid traffic, or mobile traffic, it's up to you. Yet, knowledge is the power that enables you to achieve that goal. The more you dig, the better the result. Stay in the know about your target audience needs and you'll see an increase in traffic, conversions, and budget optimization much faster.
There's a big number of companies that failed not because they ran out of money. They failed because they ran out of the lack of information about the target audience. This is the reality.
Thus, having a clear understanding of the target audience leads to success.
PayDay Niche: Ins and Outs
A good starting point as a partner is to learn the basics of what a payday loan is. Well, you're not the only one who does homework. The term 'payday loan' is one of the most searchable ones on Google and is as high as 1,000,000 times per month.
So, what's a payday loan is and why so many people search for it?
Typically, a payday loan is also known as a cash advance or an emergency loan is a type of short-term loan aimed to help consumers cover the costs of emergencies. As a rule, a borrower can opt for something between $100 and $1,000.
To be more specific, payday loans are no strange for 2.5 million American households. Simply put, one in fifty Americans take out payday loans to pay for unexpected expenses. Thus, if you're ready to start earning more, it's easy to see how promising this market is. All in all, $10 billion in loan fees each year makes the payday loan industry a lucrative niche to dive into.
Plus, payday loan borrowers are typically habitual ones. Survey results also showed that consumers who have previously taken a loan are interested in taking another loan in the future. By way of example, half of the planned purchase borrowers qualify for one or two loans per year, whereas 50 percent of those borrow as much as $1,000 per loan. For you, that means you can easily convert your audience multiple times. The key here is to target the right one.
Now, let's talk about payday loans from the customer point of view.
Where to Apply for a Payday Loan
The beauty of payday loan affiliate programs is that they work nearly in every state. From a customer point of view, the outlawing of payday loans means more chances to skip an endless cycle of debt.
So, before you get started as a payday loan affiliate, learn the list of states that currently prohibit payday loans. Exclude from targeting the next states:
AR ARKANSAS
CT CONNECTICUT
NH NEW HAMPSHIRE
NY NEW YORK
MT MONTANA
SD SOUTH DAKOTA
MN MINNESOTA
VT VERMONT
WV WEST VIRGINIA
For you, as a payday loan affiliate program partner, it makes no sense to waste your effort. Yet, to understand fully, why people opt for online cash advances, it would be useful, to see some statistical data. When it comes to the top states, Google Trends would be just the thing. This is the go-to tool for you to find the hottest information and monitor the dynamics.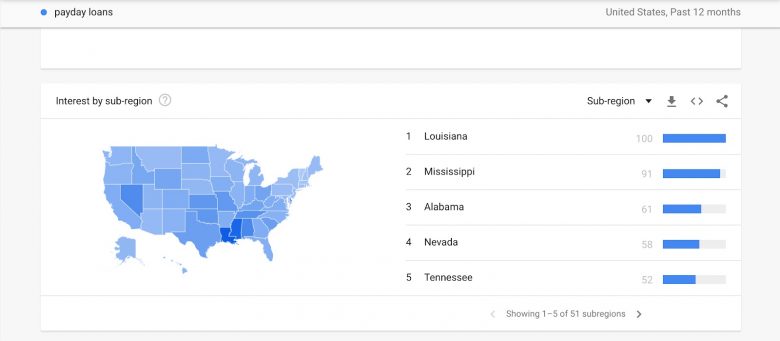 Read more about Best Payday Loan Online Business Instagram Strategies.
Who Is Your Target Audience
Now let's talk about the target audience. Thus, anyone looking to get an instant payday loan is under your radar.
So, who can apply for a payday loan?
Age 25 – 49
No College
African American
Income: $15,000 – $25,000/year
Renter
Not Military
Yet, each of them has its own needs, reasons for taking out a loan, and possibilities. In order to generate high-quality payday loan leads, it's vital to reach out to your target borrower who actually needs your loan. So who is really in need of your loan? Knowing as much as possible information about your ideal customer prior to executing a marketing campaign is what will determine a hit or miss in reaching out to a borrower. Make sure you have accurate, relevant, and healthy data if you want to succeed as a payday loan affiliate.
Why People Apply for Payday Loans
Although a payday loan is an expensive method of obtaining funds, it works. Even better, it helps to raise finance quickly, sometimes even without compromising on the credit score. Typically, there are four main consumer need cases:
Unexpected expense
Misaligned cash flow
Exceeding income
Planned purchase
Does your target borrower have expenses that exceed his/her income? Well, for your information, 77 percent of the loans borrowed were under $500, and 30 percent were under $100. Necessities like food or clothing are among the top reasons for obtaining funds. Then offering small-dollar loans would help you reach out more leads.
When it comes to planned purchase borrowers, things look quite different. As a rule, they're looking for a big dollar loan to make large, planned purchases. It might be a car, or furniture and appliances. Home repairs and small business expenses can be also a part of their planned purchase.
Is your target borrower low for cash due to lower income? Because payday loans are targeted at people in financial trouble, offer him/her help. Typically, he needs money to cover things like utilities, household expenses, or rent. Then a payday loan from 6 to 12 months would help. All in all, 42 percent of those borrowers use such loans to cover unstable income issues.
Recent statistics show that payday loans surge in popularity even though it's evident that they are detrimental to the financial health of a borrower. Many people turn to these loans when faced with emergencies, unexpected things, or medical expenses. It's a good rule of thumb to save for emergencies to cover expenses like car repairs, medical bills, home repairs or to help family or friends. Yet, the reality shows that only 41 percent of Americans would be able to cover a $1,000 emergency with savings.
While fast cash and no credit checks make it easy for a consumer to get a payday loan, people opt for loans. It's easy to cover things like utilities, household expenses, and rent. Yet, it's much more difficult to pay it off.
As long as you can help your target borrower, he will be interested to work with you. Below you'll find some infographics that would be a nice extra for you. Use it to your advantage to reach out to only those who might need a payday loan at the moment.
From now on, do your research. It's where your creativity turns on. Sadly, but many payday loan affiliates ignore the power of direct marketing, and what about you? Well, who doesn't need more customers today? Invest some time in research and then take action.