The Best Affiliate Marketing Events of 2019-2020: You Should Know About Them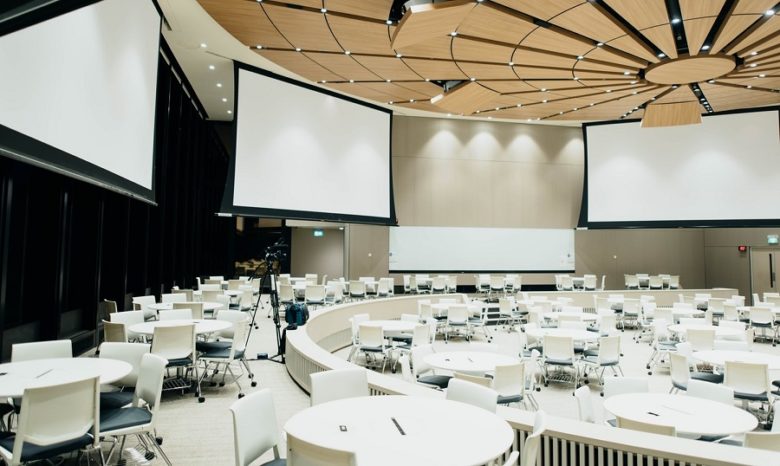 Every single year there increases demand for professionals in the affiliate marketing industry. No surprise as a growing number of online businesses creates a basis for affiliate marketing development.
A lot of e-commerce events in the world were held in 2018. Some of the event repeat year after year, so here is an updated list of events to be held in 2019. There were about 30 affiliate marketing conferences held in 2018 in different countries all over the world. This number will probably not be slowing down.
In 2019, there will definitely be held tons of affiliate marketing events worldwide. Choosing one event out of many presented on the internet is, of course, not an easy task to do. However, here we are going to present a calendar of top affiliate marketing events we recommend you to visit in 2019.
We will update the list of upcoming events in 2019, so be sure to check this link from time to time. If you know about events that should be added to this list, feel free to mention them in the comments section below.
The affiliate marketing events may include conferences, expositions, trade shows and so on. No matter you are a blogger, a website owner, a solution provider, take part in payday loan affiliate program, or even a businessman. You are simply obliged to attend at least one of the event in affiliate marketing events mentioned in this article.
DMIEXPO
November 24-25, Tel Aviv, Israel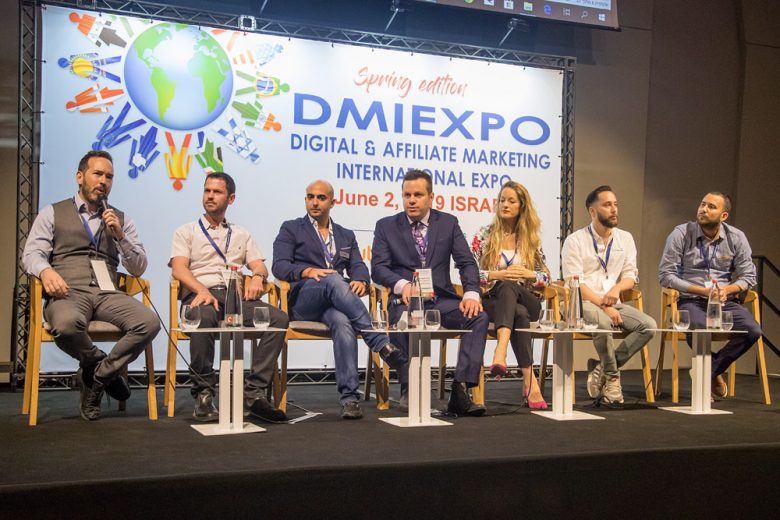 The DMIEXPO is the fastest growing Digital & Affiliate Marketing International Expo & Conference held in the beautiful Tel-Aviv, Israel. The DMIEXPO is putting its attention to details bringing best content, attendees, exhibitors and hosting experience (they make sure, differently from other events, that all of the attendees are getting luxury dining experience at the event)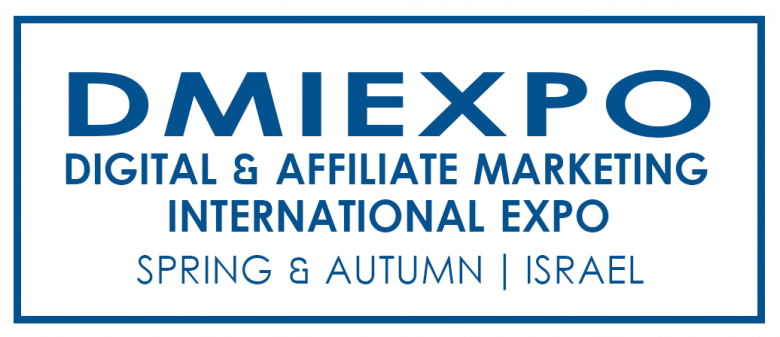 DMIEXPO is where you'll be able to take advantage of a unique event for meeting over 1,500+ the leading digital & performance marketing professionals, executives, affiliates, partners, lead generation experts, and new opportunities.
Affiliate Summit West
January 6-8, 2019, Las Vegas, USA

Affiliate Summit arranges the biggest event in the marketing industry annually. Held in Las Vegas in January, Affiliate Summit West gathered around 7000 specialists from all over the world. Those who attended the event had a great opportunity to talk about new trends in marketing. They can also share their expertise, look for innovative visions and solutions and made new connections.
The professionals attending Affiliate Summit in Las Vegas may include various specialists. They may include global brands, technology companies, advertisers, and so on.
LeadsCon
March 4-6, 2019, Las Vegas, USA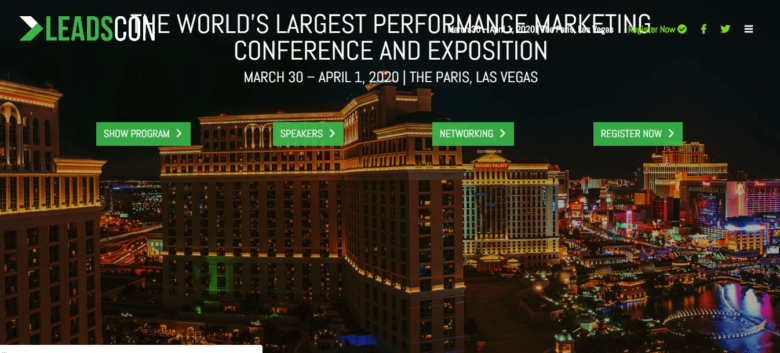 LeadsCon has brought together more than 2,700 specialists to Las Vegas. LeadsCon was a massive affiliate marketing event focused on the newest trends and technologies in the industry. Senior-level speakers gave insights into the ways of how to increase sales, conversion rate and many more.
Affiliate Summit Europe
March 12–14, Amsterdam, Netherlands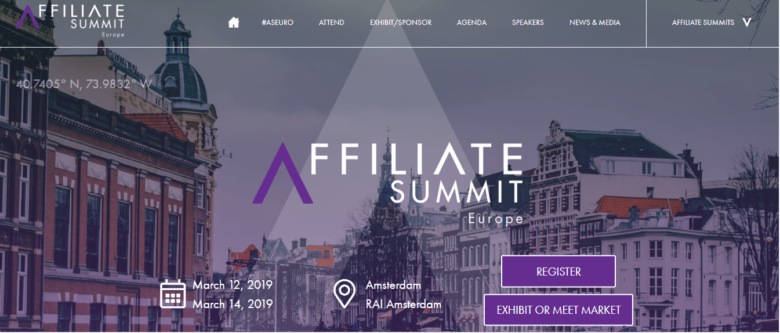 Affiliate Summit Europe is a twin brother of the above-mentioned conference in Vegas. It is known to be one of the most fast-growing and fruitful events in the affiliate marketing industry.
Affiliate Summit is known to run the biggest performance marketing events in the world. This year attendees participated in the events divided into a few categories. They included affiliate marketing, affiliate management, advertising, OPM/agency, solution providing, and network.
The event allowed affiliates, digital agencies learn from the renowned industry decision makers. Affiliate Summit Europe opened with the Meet Market. Here senior-level professionals and top companies networked exchanging their experience.
Similar to other events, it was arranged by practitioners for practitioners. It offered a great opportunity to gain education through conference sessions, seminars and so on. They could also gain precious knowledge about novelties from the industry influencers.
CPA Conference
March, 15, Kiev, Ukraine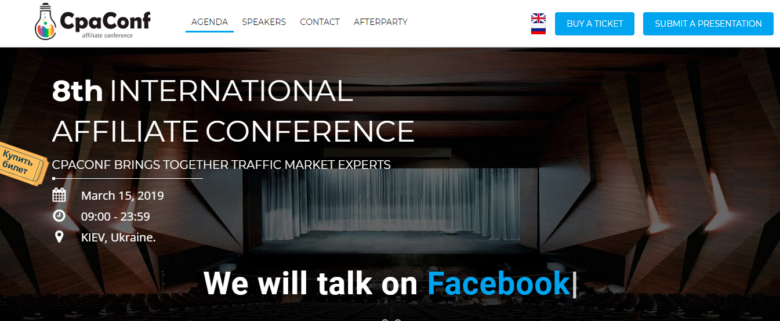 Held in Ukraine, CPA Conference is known to be one of the most fast-growing and fruitful events in internet marketing. There has been observed a fast growth of the number of webmasters in Ukraine which boosted the development of many areas of tech. They included Mobile, Programming, Virtual and Augmented Reality, Computer vision and other. This event was expected to bring together webmasters and affiliated programmers. The key industry participants could take part in the seminars, products exhibitions, and programs. The CPA Conference was also expected to attract international partners.
Nordic Affiliate Conference
March, 27-28, Stockholm, Sweden

The Nordic Affiliate Conference is an event for the affiliate marketers from Northern Europe. Taking place in March 2019, NAC is expected to bring together key figures in the industry. They include leading affiliate marketers, media agencies, advertisers and so on. To a great extent, NAC is arranged for entrepreneurs enabling them to network in an intimate way. Among the speakers, there will be the leading tech brains and mobile industry influencers.
MAU Vegas
May 1-2, 2019, Las Vegas, USA

You missed affiliate marketers in For some reason, Las Vegas is not only a capital of gambling but affiliate marketing. Mobile Apps Unlocked (MAU) sounds like an event reserved for the professionals developing mobile apps. However, it also is dealing with affiliate marketing trends and questions. MAU is expected to bring together 400 of the top mobile companies. Over 200 leading minds in mobile app growth will be giving insights into the business. During two full days, businessmen will gain precious tips on how to increase their profits. This information is going to put together the use of apps and affiliate marketing strategies.
Mobile Beach Conference
May, 19-20, Odessa, Ukraine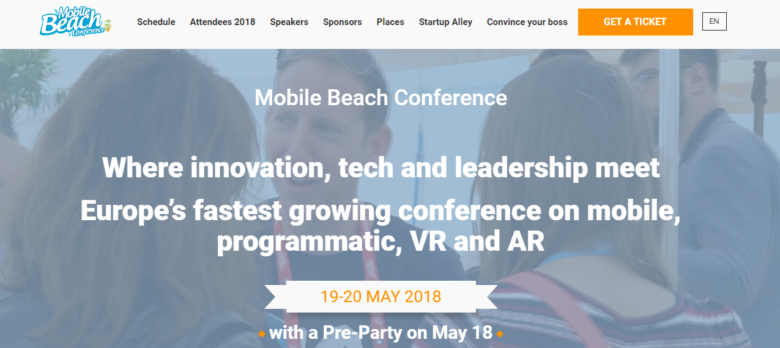 Since MBC was launched, it has shown fast growth. It has been recognized as one of the most fruitful events in the mobile and affiliate marketing industry. Today, it focuses on various areas of tech. They include mobile, virtual reality, artificial intelligence, and others. This event is going to gather over 1000 pros. They are entrepreneurs, affiliate marketers, tech gigs, startup owners and investors. MBC motto sounds "Just chill and make a deal" seems to suit perfectly to the conference goal.
Israel Mobile Summit
June, 12, Tel Aviv, Israel

The IM Summit is one of the most popular affiliate marketing events in Israel. It is attended by over 2,000 of the most brilliant mobile minds annually. It gathers mobile apps developers, mobile startup owners and lots of other professionals.
Amsterdam Affiliate Conference
July 16-19, 2019, Amsterdam, Netherlands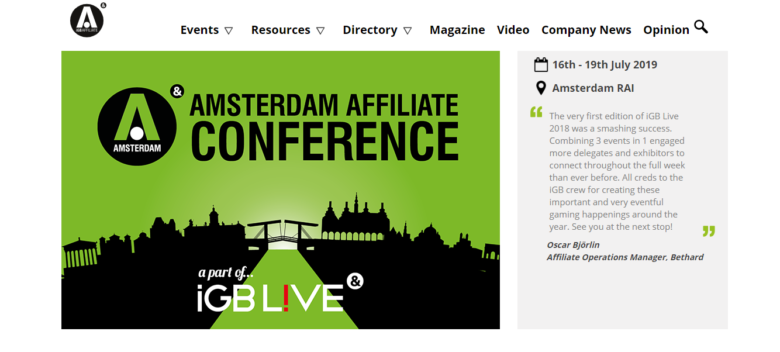 AAC is one of the biggest events focused on the online gambling industry. Specifically, it is concerned with networking, education, and business. Affiliate marketing is hugely important for online gaming. Held in Amsterdam, the iGB Live conference brings together over 100 speakers and exhibitors from all over the world. Held in the middle of the summer, iGB Live lasts one week. It gives an opportunity to gain knowledge in online gambling and affiliate marketing in 40 sessions. The speakers highlight issues of SEO, marketing, regulation and compliance, sports betting, finance and so on.
Affiliate Summit East
August 11-13, 2019, New York, USA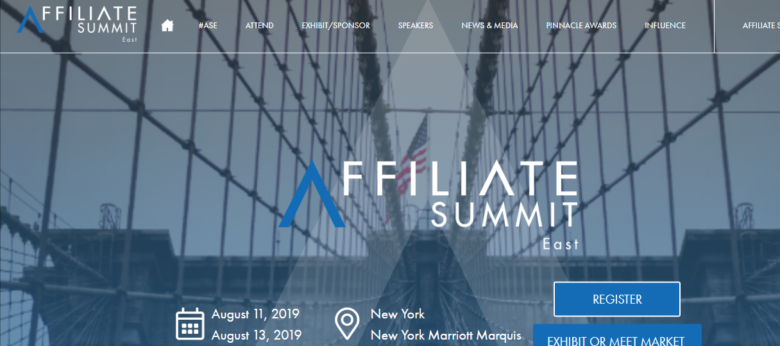 Another great alternative for affiliate marketing events is Affiliate Summit East. This meeting platform is equally important for affiliates and merchants. Affiliate Summit East gathers thousands of affiliate marketers, advertisers, digital agencies representatives. They get an opportunity to discuss the latest trends, innovations, and challenges facing the industry. The three-day event features Marketplace, Tech Talks, the Networking Zone and Influence. Cutting-edge technology and revolutionary ideas will be presented during the event.
Dmexco
September 11-12, 2019, Cologne, Germany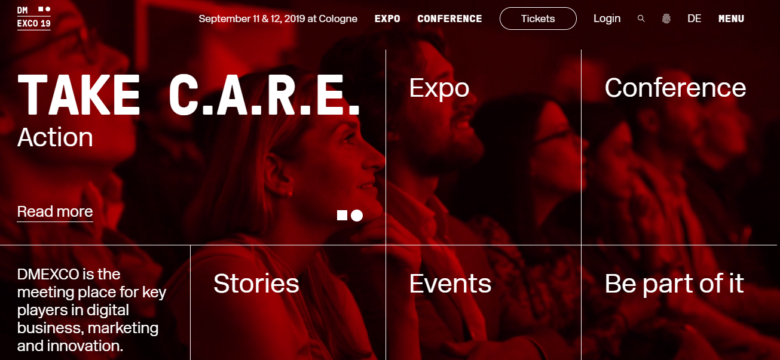 Dmexco has become one of the top annual events in the affiliate marketing industry. This conference is held for the key players in the affiliate marketing industry. The numbers speak for themselves. Dmexco brings together over 40,000 visitors and 1000 exhibitors from different countries. Here, marketing professionals are discussing the trends in e-commerce and digital marketing. Dmexco is strongly focused on networking, data-driven knowledge, and innovative ideas. Attendees appreciate it for a great ability to network. Here, leading affiliate marketing professionals can communicate with top brands representatives. 500 speakers talk about business insights, a summary of what is happening in the affiliate marketing industry today.
Affiliate World Asia
December, Bangkok, Thailand

Thailand in winter is simply a paradise on earth. Thailand is also popular for its affiliate marketing events taking place here every year. Attending Affiliate World Asia event is another great reason to visit the country.
The core of this event is obtaining verified information from acknowledged professionals. It attracts more than 3,000 affiliate marketers and digital companies representatives from all over the world.
Top Affiliate Marketing Events 2020
Planning 2020 professional growth and networking + saving money.
SEMPRO (SEO & Affiliate)
May, Kyiv, Ukraine
The 6th annual SEMPRO conference.
The annual conference on generation and monetization of web-traffic, Affiliate & SEO Conference 2020, will take place in Kyiv again on May 21th. This is the only offline event in Ukraine for SEO-experts and TOP affiliates  working for the western market.
Come and see:
1200+ attendees (75% are active webmasters)
22 best speakers
3000 m2 for successful networking
huge party
You might ask why affiliate marketing is so important for developing a business. Attending affiliate marketing events may contribute to the quick development of your business. The thing is an affiliate marketing event is a great place to find new partners, learn new information, and even understand what affiliate marketing mistakes you should avoid. It can help to build up strong working relationships and learn more about new trends in the industry.
---
Conclusion
Hope you found a lot of useful information about what are the world's premier affiliate marketing gatherings. There are meaningful events for affiliate marketers out there. Take advantage of networking with the industry's brightest minds. You can also obtain high-level content from acknowledged speakers. Attending one of the world scale affiliate marketing events, you get a great opportunity to push your career forward. You can also take your business to the next level.
---
Please, share in comments your impressions regarding the past events.